[ad_1]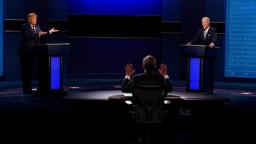 Updated 0428 GMT (1228 HKT) September 30, 2020
President Donald Trump and his Democratic challenger, Joe Biden, faced off in their first presidential debate Tuesday night.
The 90-minute debate took place at Case Western Reserve University in Cleveland, and it focused on six topics, each taking about 15 minutes: "The Trump and Biden Records," "The Supreme Court," "Covid-19," "The Economy," "Race and Violence in our Cities" and "The Integrity of the Election."
The moderator was Chris Wallace of Fox News, and the Commission on Presidential Debates said he alone selected the questions. Wallace had his hands full Tuesday night, as the debate often devolved into shouting, rancor and cross talk that at times made it impossible to follow what either candidate was talking about.
Because of the coronavirus pandemic, Trump and Biden did not shake hands. There was also a much smaller in-person audience than usual, and everyone attending had to take a Covid-19 test and follow other safety protocols.
The next two presidential debates are scheduled for October 15 and October 22. A vice presidential debate will be held next Wednesday in Salt Lake City.
[ad_2]

Source link