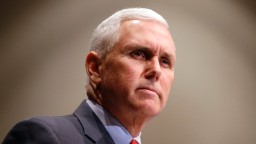 Vice President Mike Pence speaks at the Pentagon in August 2018. He was calling for the establishment of a Space Force as a sixth branch of the US Armed Forces.
A young Pence plays guitar in a Hanover College chapel. Pence graduated from the Indiana school in 1981 and then went on to study law.
Pence meets with President Ronald Reagan while running for Congress in 1988. He lost that race and another one in 1990. After his second loss, Pence became president of the Indiana Policy Review Foundation, a conservative think tank. From 1993-1999, he hosted a syndicated talk radio show in which he described himself as Rush Limbaugh on decaf.
Pence is joined by his wife, Karen, and other family members after winning a congressional race in 2000.
Pence talks with US Sen. Jeff Flake in 2002, during the markup of a bill that would establish the Department of Homeland Security.
Pence, second from left, joins other Republican congressmen who were calling for budget offsets to pay for the Hurricane Katrina relief and reconstruction effort.
Pence speaks at a 2008 news conference in Washington, DC. Pence and other House Republicans were calling on House Speaker Nancy Pelosi to schedule a vote on energy legislation to help lower gasoline prices.
Pence makes marks on a House health-care bill in 2009.
Pence sits with the Royerton Elementary School choir as it prepares to sing patriotic songs on the House steps in May 2011.
Pence walks with House Budget Committee Chairman Paul Ryan as they head to a meeting in July 2011.
Pence is sworn in as Indiana's 50th governor in 2013.
Pence holds a news conference in Indianapolis in March 2015. Pence spoke about the state's Religious Freedom Restoration Act, which banned local governments from intervening when businesses turn away customers for religious reasons. The law sparked concern about discrimination, particularly within the LGBT community. A week after it was enacted, Pence signed a new version that prohibited discrimination on the basis of sexual orientation.
Pence shakes hands with Trump after being selected as his running mate in July 2016.
Pence prepares for an interview prior to the start of the fourth day of the Republican National Convention in July 2016.
Trump and Pence acknowledge the crowd at the end of the Republican National Convention in 2016.
Pence takes a selfie before a presidential debate in Hempstead, New York, in September 2016.
Pence debates Democratic vice presidential candidate Tim Kaine in October 2016.
Pence and his wife, Karen, take the first dance at the Indiana Society's Inaugural Ball in January 2017.
Pence arrives for Trump's inauguration in January 2017.
Pence is joined by his wife, Karen, and his daughter Charlotte as he lays a wreath at the Dachau Concentration Camp Memorial Site in southwestern Germany in February 2017.
Pence and his wife are joined by their daughters Audrey, left, and Charlotte as they leave Japan in April 2017.
Mike and Karen Pence hold their family rabbit Marlon Bundo during an event celebrating military families in May 2017.
The Space Shuttle Discovery is the backdrop as Pence speaks during the inaugural meeting of the National Space Council in October 2017.
Pence cleans a portion of the wall at the Vietnam Veterans Memorial in November 2017.
Pence and his wife, Karen, attend the opening ceremony of the Winter Olympics in Pyeongchang, South Korea, in February 2018. Kim Yo Jong, the sister of North Korean leader Kim Jong Un, is seated at back left.
Pence speaks while visiting US and Polish soldiers at a military base in Warsaw, Poland, in February 2019.
Pence meets with British Prime Minister Boris Johnson in London in September 2019.
In this photo released by the White House, President Trump sits in the White House Situation Room, monitoring developments in the October 2019 military raid that killed ISIS leader Abu Bakr al-Baghdadi in northwest Syria. From left are national security adviser Robert O'Brien; Pence; Trump; Defense Secretary Mark Esper; Gen. Mark Milley, the chairman of the Joint Chiefs of Staff; and Brig. Gen. Marcus Evans, the deputy director for special operations on the Joint Staff.
Pence and Trump attend a December 2019 meeting about the Governors Initiative on Regulatory Innovation.
Pence speaks during a White House coronavirus briefing in March 2020. He was chosen by President Trump to lead the White House Coronavirus Task Force.
Pence stops to talk to reporters after meeting with congressional Democrats and Republicans in March 2020.
Pence visits Dennis Nelson, a patient who survived the coronavirus and was going to give blood, during a tour of the Mayo Clinic in Rochester, Minnesota, in April 2020. Pence chose not to wear a face mask during the tour despite the facility's policy. Pence initially told reporters that he wasn't wearing a mask because he's often tested for coronavirus. He later said he should have worn one.
Pence and Trump watch the launch of a SpaceX Falcon 9 rocket in May 2020. It marked the first time in history that a commercial aerospace company carried humans into Earth's orbit.
Pence accepts the vice presidential nomination at the Republican National Convention in August 2020.
Pence greets his predecessor, Joe Biden, during a 9/11 memorial service in New York in September 2020. Biden is also the Democratic Party's presidential nominee.
Pence smiles during a Fox News interview in Gilford, New Hampshire, in September 2020.
Pence and Trump arrive at a campaign rally in Newport News, Virginia, in September 2020.