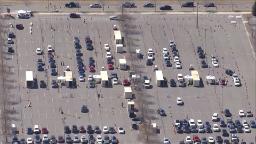 More than 1,700 people received the Johnson & Johnson vaccine on Wednesday at Dick's Sporting Goods Park, a soccer stadium where the state of Colorado and health care provider Centura Health operate a
mass vaccination site
. The 11 people reported feeling nauseous and dizzy after they were vaccinated, Colorado health officials said.
Two of the patients were transported to a hospital "out of an abundance of caution," while the other nine were given juice and water to recover, according to a statement from the Colorado State Joint Information Center.
Officials didn't elaborate on the two hospital patients' conditions.
"The state has no reason to believe that people who were vaccinated today at Dick's Sporting Goods Park should be concerned," state health officials said.
The site closed early on Wednesday afternoon, before another 640 people were scheduled to receive their vaccine. Their appointments have been rescheduled to Sunday, Centura Health said.
Despite the hospital transport, the side effects the 11 patients reported were "consistent with what can be expected" from the Johnson & Johnson vaccine, Covid-19 Incident Commander Scott Bookman said in a statement.
"We know it can be alarming to hear about people getting transported to the hospital, and we want to assure Coloradoans that the CDC and public health are closely monitoring all the authorized vaccines continually," Bookman said. "Based on everything we know, it remains true that the best vaccine to get is the one you can get the soonest."
Severe side effects from Covid-19 vaccines are rare
It's relatively common to experience side effects from any of the three vaccines available in the US — about 10% to 15% of volunteers in vaccine trials developed "quite noticeable side effects," former Operation Warp Speed Chief Scientific Adviser Moncef Slaoui said late last year.
Johnson & Johnson vaccine is effective
"Having a vaccine that is clearly effective against this type of mutation is a distinct advantage," she told CNN in March.
CNN's Holly Yan and Katia Hetter contributed to this report.